Heading into his senior season at Boise State, quarterback Kellen Moore is a Heisman hopeful and one of the most well-known college players around the country. As he attempts to lead the Broncos to a national championship, Moore will also be looking to increase his stock for the 2012 NFL Draft. With that, here is my scouting report on Kellen Moore.

Positives:
Three-year starter

Has been highly productive as a passer, throwing for 3,400+ yards all three seasons. Threw for 3,845 yards last season, in addition to 35 touchdowns and 6 interceptions. As a junior in 2009, his numbers were astounding, throwing for 39 TDs to only 3 INTs.

Has had big games against big competition, throwing for a combined 1,190 yards, 10 TDs, and 1 INT in 2010 against Virginia Tech, Oregon St., Nevada, and the bowl game against Utah.

Spreads the ball around very well to receivers, tight ends, and backs.

Good variance playing under center in the I-formation and in shotgun with 4-5 receiver sets.

One of the most accurate passers in college football, especially when his feet are set and has time to throw. Possesses great touch on short to intermediate throws. Accurate over the middle and can zing it into tight spaces, even on the run.

Has great awareness of where pass rush is coming from and anticipates receiver breaks. Has decent mobility to escape the rush.

Has ice in his veins; almost flawless in clutch situations. Has led game-winning drives in big games versus Virginia Tech and Nevada the past two seasons.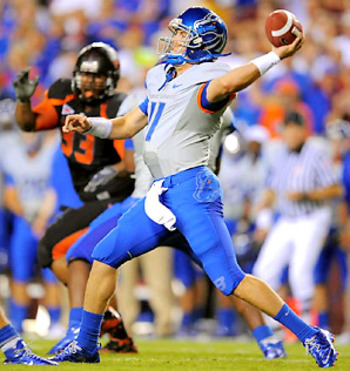 Appears a bit nervous under pressure and has the tendency to force throws into double coverage.

Has the habit of throwing off of his back foot on occasion and has a mixture of a side arm and over the top delivery.

Size is an issue (6'0, 190). Can he see the whole field and can his body hold up to hits by NFL lineman?

Only above average arm strength to make long passes downfield.

Has faced marginal conference opposition in the WAC.

Has benefited greatly from his receivers, especially in 2010 with Lions 2nd round pick Titus Young and Rams 3rd rounder Austin Pettis.
Moore possesses the ability to develop into a solid pro if he can develop more of a comfortable presence in the pocket under defensive pressure and continue his excellent accuracy. Size and arm strength will always be questioned, but Moore has shown the leadership and moxy in win or lose situations that cannot be taught. Could really benefit from a year to study the game before being thrust into a starting role and should be a 3rd or 4th round pick who could make a jump to the 2nd round depending on how well he plays this season and whether he can lead Boise St. to a BCS bowl.
Games to watch: vs. Georgia, Sept. 3 -- vs. Nevada, Oct. 1 -- vs. TCU, Nov. 12